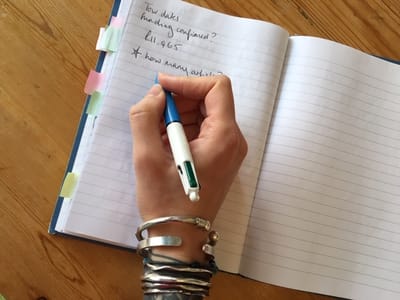 CURRICULUM VITAE

Key Skills:
• Project development and bid writing
• Organisation and efficiency
• Attention to detail
• Empathy and emotional control
• Clear written and oral communication
• Negotiation skills, even in difficult or contentious situations
• Logical thinking and problem solving

Professional Positions:
• Trustee/Director for Rosie Kay Dance Company
• Trustee/Director for the Hub at St Mary's, Lichfield
• Advisory panel member for Re-imagining Industrial Migrantory Stories CIC
• Advisor/brain trust member for High Vis Festival
• Steering group member for Warley Woods Community Trust Artist Residency Project
• Workshop leader/facilitator for Work-Show-Grow

My clients have included Move Beyond Words, Dawinder Bansal, High Vis Festival, Foka Wolf, Big Dreamers Festival, Natasha Caruana, Round Midnight, Adult Art Club and Halima Cassell.

I regularly lead workshops for Work Show Grow and have also run learning sessions for London Creative Network and the Barbican's Culture Mile.


Relationship Manager, Museums - Arts Council England (July 2016 - April 2018)
Responsibility for a £5.5 million portfolio of funded projects, including Museum Resilience Fund, Designation Development Fund and Museums and Schools projects, and a Major Partner Museum Consortium. This included performance monitoring and feedback, grant payments, and risk monitoring and management. Management of the NPO funding agreement process, providing advice on business planning and programme development. Providing pre-application advice, undertaking assessments and comments, and acting as a critical friend on decision panels for Grants for the Arts, Small Capital, Ambition for Excellence, Celebrating Age, and Catalyst funding applications. Maintaining key relationships with stakeholders and other funders such as Museum Development East Midlands, the Heritage Lottery Fund and East Midlands Museum Service.

Key Achievements:
• Successfully negotiated £9 million of funding agreements with the new National Portfolio Organisations.
• Assisted with the development of the criteria for National Lottery Arts Council England Project Grants, using my knowledge of both regional and national funding schemes.
• Sat on the interview panel for the new Chief Executive of the National Justice Museum, ensuring the successful candidate would be able to deliver Arts Council aims.
• Acted as a member of the Museum Development Small Grants decision panel, the Culture Syndicates Resilience Advisory Panel, and the Touring Exhibitions Group Committee, offering professional advice and expert knowledge.


Assistant, Collections Development and Designation, Arts Council England and Museums, Libraries and Archives Council (October 2008 - July 2016)
Responsibility for all administration and support work for several highly regarded, cross-sector, national schemes. First point of contact for stakeholders, ensuring effective communication and building and sustaining key relationships. Accountable for the assessment of applications, monitoring grant-aided projects and releasing payments. Responsibility for organising and preparing paperwork for meetings with important external participants, taking minutes and producing official statistical reports, facilitating comprehensibility and transparency. Writing, collating and editing copy for websites, advocacy documents, press releases and annual reports.

Key Achievements:
• Developing a suite of advocacy documents to enable active promotion and retention of the high profile of the Designation Scheme.
• Effectively managing grants of up to £70,000: ensuring projects remained on track and strategic aims were met.
• Undertaking the role of Manager, Designation and PRISM Fund for 6 months while the manager was on long-term leave, maintaining consistent, high quality service.
• Project-managing photography of museum collections by liaising with and supervising independent contractors.


Prior to this I worked in several organisations including Fellows & Sons Auctioneers and Valuers and Worcestershire County Council. I have undertaken voluntary work for Birmingham Museums Trust, The Barber Institute of Fine Art, Walsall Mobile Library Service, St John's Library and Project Pigeon.


I have a degree in the History of Art from Birmingham University, and a Masters Degree in Museums Studies from the University of Leicester, where I completed my dissertation on community engagement and gallery design, using two West Midlands venues as case studies.